Unveiling the finest selection of Ulaanbaatar's Top 10 Hotels, where luxury and comfort harmoniously embrace within the bustling cityscape, offering an extraordinary stay.
Shangri-La Hotel Ulaanbaatar
Shangri-La Hotel, Ulaanbaatar, is located right in the heart of the city centre. It is one of the country's true 5 star hotels. The hotel features 290 elegant and spacious guestrooms with a minimum of 42 sqm, and contemporary and indigenous fusion design.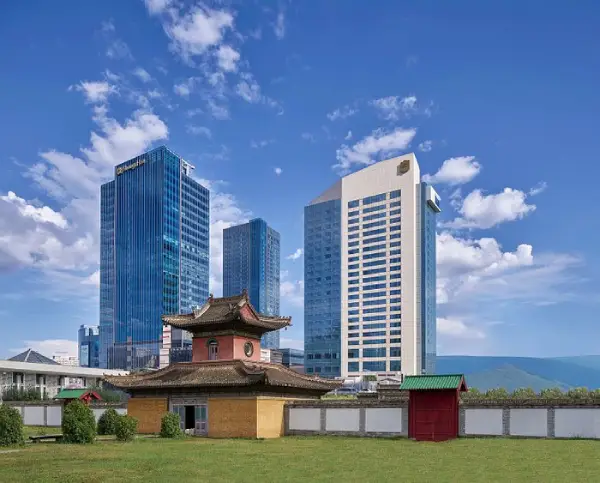 Best Western Tuushin
Located in the heart of Ulaanbaatar and within 100 meters from Sukhbaatar Square, the five star Best Western Premier Tuushin Hotel, which was awarded the title of Mongolian's Top Hotel Award in 2016, offers 198 high quality quests rooms. The 25th floor restaurant offers one of the best views of the city and surrounding area.
Kempinski Khan Palace
A well established hotel under the management of the Kempinsky International team, it is located in close proximity to the bustling metropolis area of Ulaanbaatar city. With 99 luxury rooms and suites, it provides unique and modern accomodation. It has a variety of restaurants and is convienient for holding medium sized meetings.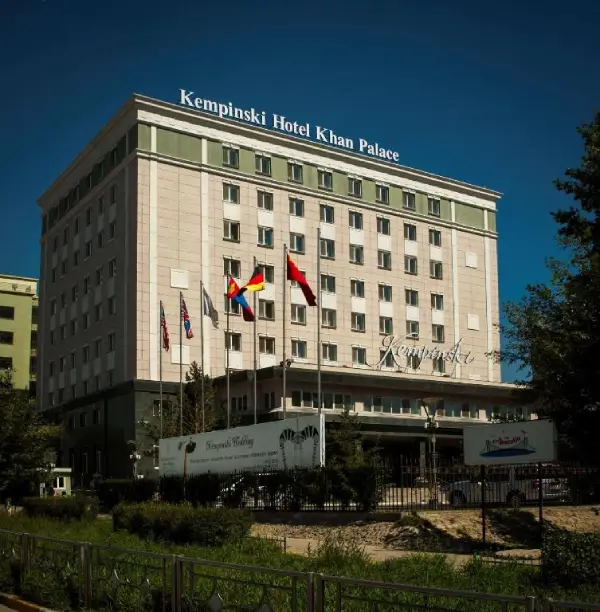 Ramada Ulaanbaatar City Center
The hotel offers spectacular views of the sacred Bogd Khan Mountain and the glamorous city street. the property is located across from the city center, and is nearby Ulaanbaatar's fascinating sights and premier attractions. It features 125 guest rooms, including 20 suites and executive rooms. Located in walking distance of Gandan Monastery.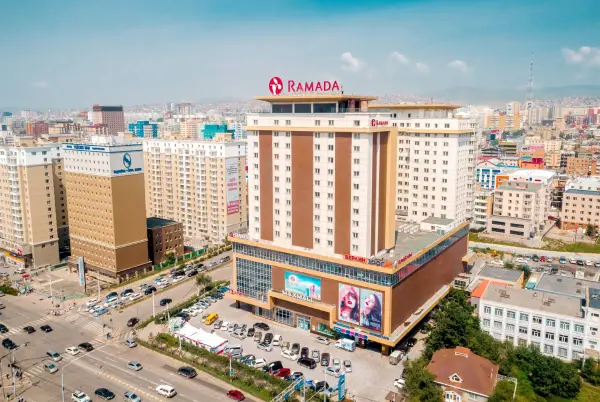 Blue Sky
This 25 storey hotel built on the south side of the city has become one of the iconic buildings of Ulaanbaatar. A five star hotel with 200 spacious and exquisitely designed questrooms, complete wih an Executive Club Lounge attends to the sophisticated needs of today's discerning international traveler. The hotel is just 10 steps away from the square. Book a south side room and Bogdkhan mountain will be in full view.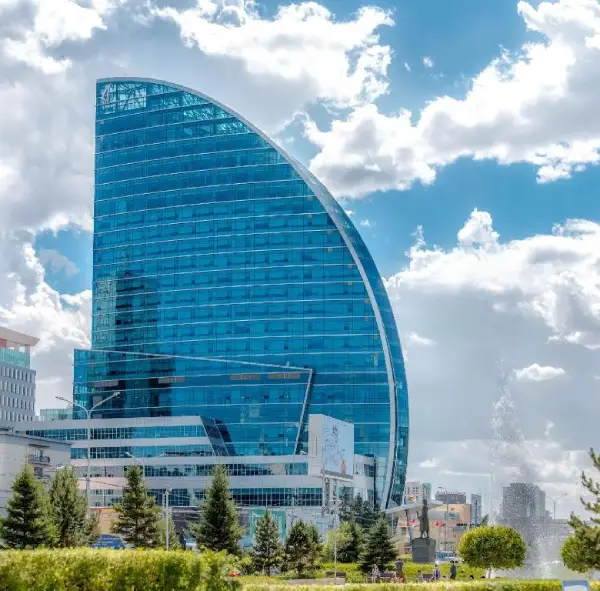 Corporate hotel
The Corporate hotel is a chain hotel located in the downtown area. They are designed as business class hotels and offer apartment style rooms. A convenient hotel if you are on a business trip.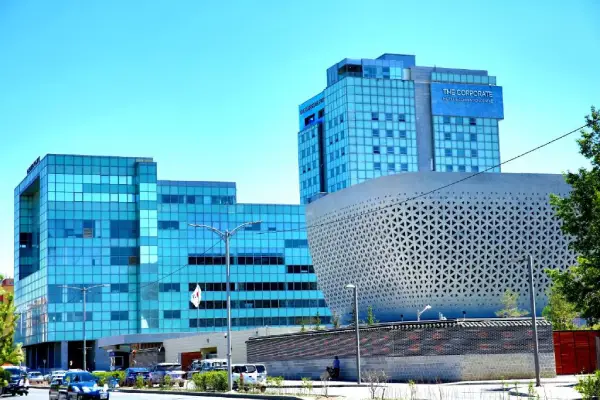 Hotel Ulaanbaatar
The is a historic landmark hotel built in 1959 and surrounded by the bustling crossroads of the city's most populrar downtown area. During the pre-1990 era, everyone stayed either here or at hotel Bayangol, two of the best available hotels at the time. Amoung the newer hotels that sprang around, the hotel "Ulaanbaatar" has always been a flagship property for Mongolian hospitality industry.
Bayangol Hotel
Another flagship hotel and an icon of Ulaanbaatar. Consists of two towers, the hotel has a superior location and a very established service. It's within 5 minutes walking distance of almost all important downtown landmarks. There are also many restaurants within walking distance.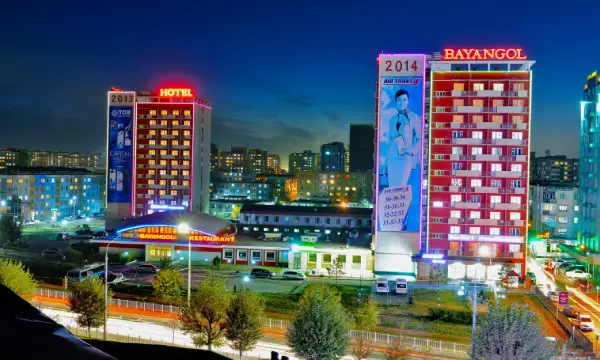 Chinggis Khan Hotel
Located on Tokyo Street and Beijing Street and within a 15 minute walk from the major government, business and cultural centres, the 4-star Chinggis Khaan Hotel enjoys a quiet location in a primary residential area. It houses an indoor swimming pool, massage and sauna services, a trendy nightclub, karaoke rooms and a variety of dining options.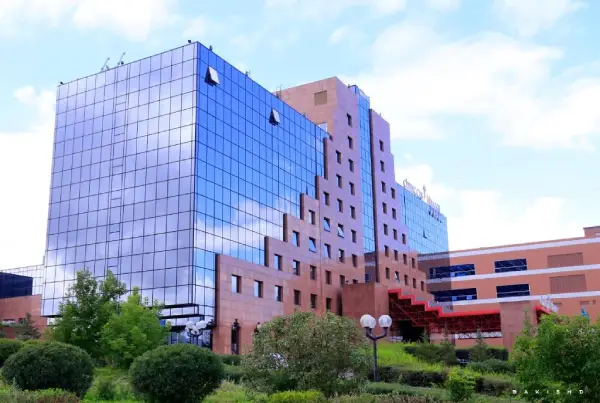 Novotel Hotel
Located in Ulaanbaatar, 600 m from Sukhbaatar Square, Novotel Ulaanbaatar offers air-conditioned rooms and a bar. Providing a restaurant, the property also has a garden also has a garden, as well as an indoor pool and a fitness centre. The accommodation provides a 24 hour front desk, room service and currency exchange for guests. All units at the hotel are equipped with a seating area. At Novotel Ulaanbaatar every room is equipped with a desk, a flat-screen TV and a private bathroom. Guests at the accommodation can enjoy a continental breakfast. You can play billiards at Novotel Ulaanbaatar. Popular points of interest near the hotel include National Museum of Mongolian History, Chinggis Khan Statue and Ulaanbaatar Opera House. Sukhbaatar is a great choice for travellers interested in history, scenery and sightseeing.
Source: Ulaanbaatar City Tourism Department